This Star Mini Book makes a great Mothering Sunday Gift. A star to give the person who is a "star in your life!"
You can make it as personal as you like too, with sayings, drawnings from the children and photographs too.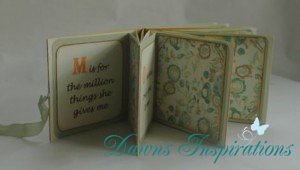 An idea size to keep in a a handbag as a brag book to share and once open can be displayed to share too.
However, this little mini Book does not have to only be for Mother's Day as it can fit many different occassions, Christmas, Birthdays, Weddings, Just beacuse!, Teacher gifts to name but a few.
So go ahead sort out your crafty stash and make this quick and simply mini.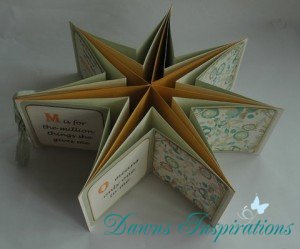 Supplies you will need to make this quick and easy projects are,
7 pieces of cardstock 4" x 12"
7 pieces of cardstock 4" x 10"
7 pieces of cardstock 4" x 8"
2 pieces of cardstock 4" x 6"
Photo mats cut 7 or 14 (your choice on how you are decoration the book) 3 ¾ "x 3 ¾" out of patterned paper.
24″ ribbon.
If you would like to use the Mother Verse to add to your album the PDF is here: