Here is a great tag book mini I have made following Stephanie Miller's Tutorial https://www.youtube.com/watch?v=zNhsKVlIbtg.
After watching one of her other tutorials I love this idea and wanted to share it with you all.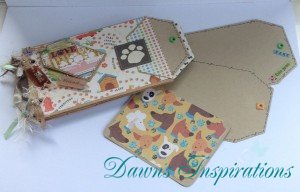 The paper collection and bags where sent to me by my subbie Maria and I have really enjoyed crafting with them.
The paper collection is DCWV The Pets Sack and I used the 4 1/2″ x 6 1/2″ papers.