Here is a great little mini that is quick and easy to make.
All you need is one paper bag, some cardstock and patterned paper of your choice.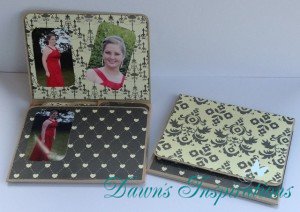 If you are in the UK and cant get craft paper bags you can still join in using shopping paper bags.
I the video tutorial I will show you how to make this mini album using both methods.
The bags size I have used is 4.7 x 2.8 x 8.9 inches.
Cut the long side of the bag to measure 8 3/4 inches, then score this at 6 inches.
Cut 2 pieces of cardstock measuring 5 7/8″ x 5 1/2″ and stock both of these at 1″ and 1 1/8″
Photo mats cut 3; 4 1/4″ x 4″
3 3/4″ x 4 3/8″
5 1/8″ x 4 3/8″
Follow the video tutorial as I craft along with you to make this super brag Wallet.