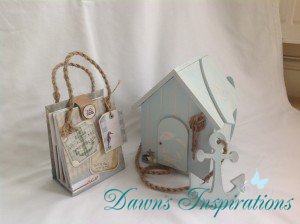 I decorative this Beach Hut at a Workshop that I attended at the MDF Mans Studios.
This was should have been a Money Box however, you know me!!! –
It had to have a Mini Album inside.
Rob (AKA MDF Man) made me a spacer for the roof so it would lift off easily and was the door for me to access the mini album.
The mini album is made using some of the papers and tags from the Prima Seashore 12×12 Paper Collection Pad.
I also used 4 white paper bags in size size 3½" x 6 ¾" x 2" which Maria kindly sent me from America.
The cover was made using a food packet box which I cut down and the rope handles are made from garden twine.
This was going to be a gift but I am finding it hared to give away, I think I may have to make another one. I do hope you like?