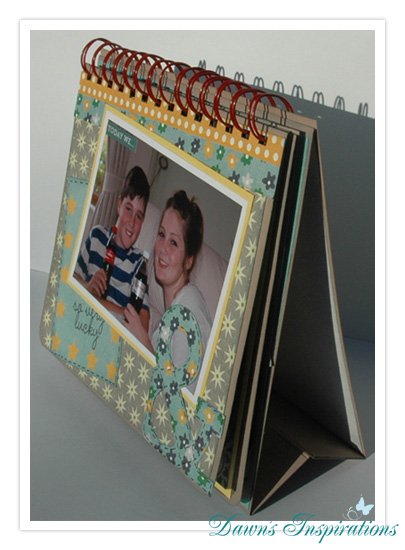 This project was a request from one of my followers Leslie so I do hope she enjoys my tutorial?
I have made this project using a Scrapbooking Kit from Papermaze and a foolscap file folder.
I really enjoyed this project as it meant I could do lots of mini scrapbook layouts, you do not need to add photos you could use quotes instead. Why not use your favourite inspirational quotes or sayings.
This make a great gift for both male and female and can be made to fit any age too.
So let you creativeity loose and enjoy making this project.
The video tutorials are on a playlist so the next one will follow once the first one if finished.
Measurements for the project – follow the video tutorial to make this project.
Using a foolscap file folder;  fold this in half and cut it to measure 8″ x 8 1/2″ (do not cut on the folder side)
Put your folded side up to the edge of your score board and score this at 1 1/2″.
From the scaps cut 4 pieces measuring 8″ x 1 3/8″ these are to reinforce the base.
Next cut 4 pages, 2 measuring 7 3/4″ x  6 3/4″ and 2 measuring 7 1/2″ x 6 1/2″.
Using A4 cardstock;  You will need 6 sheets.
Cut 2 piece measuring 8 1/2″ x 10″. Next use your scraps and cut these at 8 1/2″ x 1 3/8″.
Then on the londside score at 7″ and 8 1/2″.
Next cut 4 pages, 2 measuring 7 3/4″ x  6 3/4″ and 2 measuring 7 1/2″ x 6 1/2″.
Binding your project; This can be done in one of 3 ways, using a Bind it All, a Cinch or book rings.
So get creative and make your own Desktop Flip Style Mini Album.
Page Layouts