Here is a Memory Box I have made for my new niece.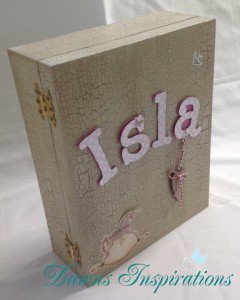 The main MDF Box came from MDF Man. I have painted this with acrylic paint and add a crackle glaze to give it a textured affect.
The two small boxes are paper mache boxes and I have treated these in the same way before decorating them.
I have also added a small 6 x 6 Mini Scrapbook Album made in the same way as the Online Workshop for the Not So Mini Year Book. and a Paper Bunting Banner for her nursery.