A Quick Tip to show you how to make 3D Paper Stars.
Cut out an equal 5 pointed star on to your chosen paperned paper, this can be of any size.
Using a score board, score each point of the star from the tip to the bottom of the point.
Now go ahead and burnish all your score lines.
Fold the star in on itself so you have mountain and valley folds. Mountains for the large points and valley for the end points.
Using an ink pad, ink all the score lines as this makes your finsihed star look more 3D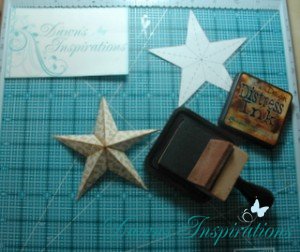 Your 3D star is now ready to be used on your chosen projects.